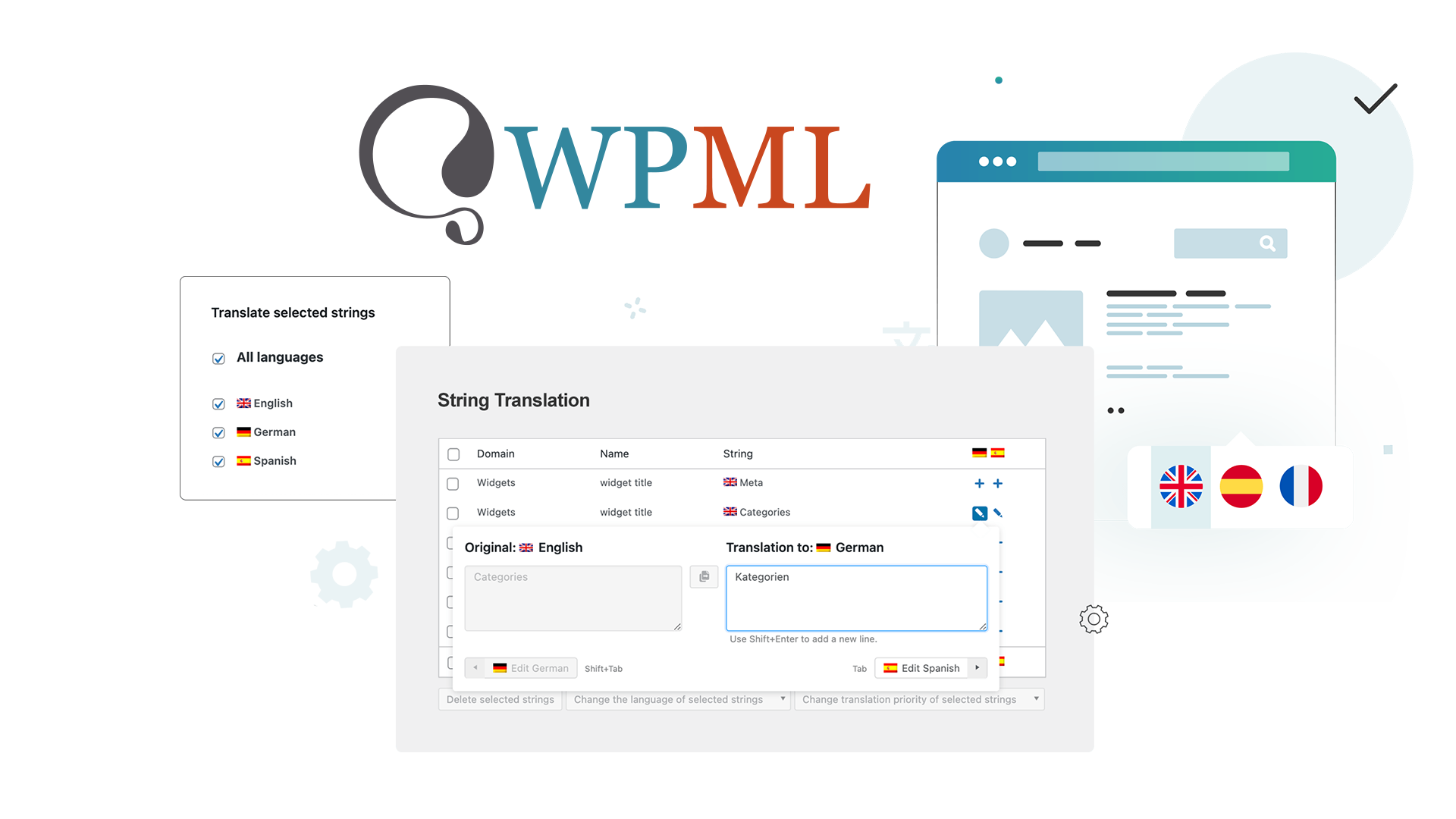 In today's interconnected world, expanding your online presence and reaching a global audience is paramount. One of the most effective ways to achieve this is by making your website available in multiple languages. That's where WPML comes in—the WordPress Multilingual Plugin that empowers you to create and manage multilingual websites effortlessly. In this article, we will explore the features and benefits of WPML, and how it can transform your WordPress site into a powerful tool for international engagement.
Seamlessly Translate Your Content:
WPML eliminates the language barrier by providing a simple and intuitive interface for translating your website's content. With its user-friendly translation management system, you can easily translate posts, pages, custom post types, menus, and even theme and plugin texts. Whether you're running a personal blog, an e-commerce store, or a corporate website, WPML ensures that your message resonates with audiences worldwide.
Multilingual SEO Optimization:
Expanding your website's reach also requires effective search engine optimization (SEO). WPML enables you to optimize your multilingual content for search engines, helping you achieve higher rankings in different languages. You can set unique meta information, URLs, and sitemaps for each language, ensuring that your website gets the visibility it deserves across multiple markets.
Multilingual E-commerce Made Easy:
If you're running an online store, WPML seamlessly integrates with popular e-commerce plugins like WooCommerce, Easy Digital Downloads, and others. This means you can effortlessly translate your product descriptions, pricing, and checkout process, allowing customers from different countries to shop in their preferred language. Expand your customer base and boost sales by breaking down language barriers with WPML.
Streamlined Translation Management:
Managing translations can be a complex task, especially for larger websites. WPML simplifies this process with powerful translation management tools. You can collaborate with professional translators or use automatic translation services like Google Translate or DeepL to speed up the translation process. WPML also provides a translation dashboard where you can track progress, review translations, and ensure linguistic consistency throughout your site.
Language Switcher and Custom Language Switcher Widgets:
With WPML, you can create a seamless user experience by implementing a language switcher on your website. Visitors can easily switch between languages, allowing them to navigate your site in their preferred language. WPML offers customizable language switcher widgets, giving you full control over its design and placement to match your website's aesthetics and user interface.
Reliable Support and Constant Updates:
WPML is backed by a dedicated team of developers and support staff who ensure its continuous improvement and compatibility with the latest WordPress updates. With an active WPML subscription, you receive regular updates, bug fixes, and access to their support forums. Whether you need technical assistance or guidance in using WPML effectively, their support team is there to help you every step of the way.
WPML opens the doors to a world of possibilities for your WordPress website. By leveraging its robust translation features, multilingual SEO optimization, and seamless integration with e-commerce platforms, you can effectively engage with global audiences and expand your online presence. With WPML, language is no longer a barrier—it becomes an opportunity for growth and success. Embrace WPML and unlock the power of multilingual websites with ease.
Remember, in a globalized digital landscape, speaking your audience's language is the key to connecting on a deeper level and achieving your goals. WPML empowers you to reach new horizons, enabling your website to resonate with people across cultures and languages. So, take the leap and embark on a multilingual journey with WPML today!
DISCOVER MORE ABOUT WPML